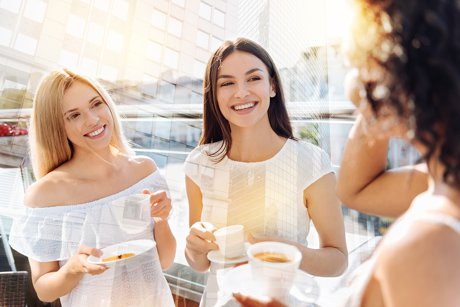 Everyday moments are cherished on Burbank property. Mornings may come early but at Simply Coffee smiles are all around all day long. At this independently owned coffee bar patrons greet one another with the spirit of neighborly camaraderie anytime of the day. Lively baristas keep the energy high, greeting regulars by name and welcoming newcomers in. Beverages are served hot and cold and a selection of pastries baked fresh.
Quality comes through with each sip, and Simply Coffee offers only the best. Cups are filled with rich blends of joe from Stumptown Coffee Roasters. Coffees are organic, fair trade sourced, and quality brewed. The whistle blows when it's time for tea. A vast variety of teas are loose leaf, organic and rich with flavor. Blends include black, green and herbal teas.
Cherish Lunchtime Gatherings Near Burbank Homes
Friends often meet on the Burbank property. The charming outside patio is the perfect space for catching up on all the latest gossip. Greenery surrounds this peaceful place causing some to settle in for a good read of the latest best selling novel while enjoying a steaming mug of coffee.
When hunger strikes Simply Coffee has what the stomach needs. Pastries bring a pleasant start to the day. During lunch time locals dine in or take out a variety of sandwiches and salads. The roasted kale salad, garlic and cheese salad, and quiche Lorraine are all around faves.
Easily found at 940 N. Lima Street, residents of Burbank homes meet and greet each other at the coffee bar. Open doors beckon one and all weekdays from 7 a.m. to 5 p.m., Saturdays from 8 a.m. to 5 p.m., and Sundays from 8 a.m. to 3 p.m. Rumor has it that with one sip your hooked. Simply Coffee is sure to become your new favorite hang out. Come see for yourself.